Dawson Bowman  and Katie Fox of Durant High School have been selected as the Shamrock Bank Impact Athlete and Performing Arts students of the month for October 2021.
Bowman is a three sport athlete who has lettered four years in football and three years (with one year remaining) in wrestling and track.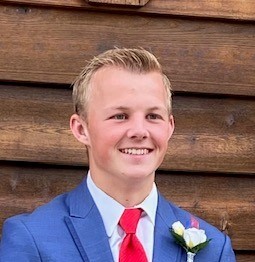 This fall,  Dawson, a senior, is third on  the team in tackles.  On the mat, DHS coach Jim Taylor expects Bowman to have a solid chance at qualifying for the Class 5A state tournament after missing last year's state meet by just one match.
Dawson has also been very successful in track. In 2019, he was a state qualifier in the 4 x 800 Meter Relay and followed that up with a spot on the Lions state champion 4 x 800 meter team.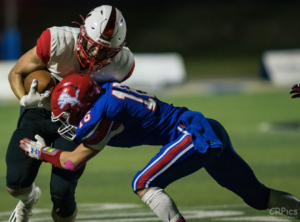 Bowman also excels in Choir where he has been named all Southeast All-District Honor Choir for six years and all state the past two years.
A member of the Fellowship of Christian Athletes (FCA), Dawson has compiled a 3.6 grade point average.
In the community, he volunteers at the Durant First Baptist Church and works at Lynch Lawn & Landscaping in Durant.
Following graduation, Dawson is  planning on attending North Central Texas College in Gainesville with an eye on a Fire Science major and the ultimate goal of entering the fire service field.
Dawson Bowman's parents are Bart and Karen Bowman.  He has one brother, Trey.
Katie Fox, the October selection as the Performing Arts Student of the Month is a talented and versatile senior.
Katie is a member of the DHS choir  and has  been involved in the DISD choir program since fifth grade.  She has auditioned and been selected for multiple honor choirs such as Circle the State with Song,  the OKMEA all-district and all-state mixed choruses.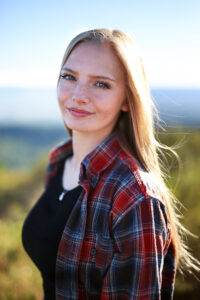 Katie has participated in many musicals while at DHS. She was a featured dancer in Mary Poppins, Beauty and the Beast, Tarzan and All Shook Up. In this fall's musical, she will be playing Gabrielle, one of the step-sisters, in Rodgers and Hammerstein's Cinderella.
In addition, she has been active in the Durant band program. From sixth grade through her sophomore year, she was in percussion and played in the  front ensemble and field line with the "Pride of Durant".
Her junior year, Katie was selected as a Sparkler where she has continued to perform with "The Pride"in the color guard  and as a member of the dance team. Outside of marching season, she was chosen as the choir's homecoming candidate.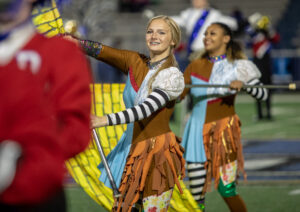 Katie's dance does not end when school is out. She participates with the Center Stage Dance Co. and competes in dance competitions both on regional and national levels.
A 3.8 student in the classroom, Katie has taken advanced and honors courses through out her high school school years and is planning on attending Southeastern Oklahoma State University to take care of  her basic requirements . She has not decided what field of study she will pursue at college.
Katie is the daughter of Jeremy and Kristen Fox. She has two siblings. An older brother, Brandon and a younger sister, Kylie.
Congratulations to Dawson Bowman and Katie Fox honored as the Shamrock Bank Impact Athlete and Performing Arts Students of the month for October 2021.