Karah Boydstun and Lydia Raines of Durant High School have been selected as the Shamrock Bank Impact Athlete and Performing Arts Student of the month for March 2022.
Just a sophomore, Karah is making her mark on Durant girls soccer.  After scoring a whopping 32 goals as a freshman, Boydstun has already found the back of the net ten times this season.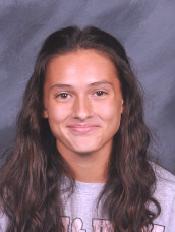 "She's a force on the field, leads by example and matches her goals with assists, as well," DHS soccer coach and older sister Katie Williams said . "Her goal is to play the highest level of soccer she can attain."
In addition to her school team, Karah plays for D'feeter's Kicks Soccer Club Team in Melissa, Texas and has participated in summer and winter Elite ID camps at Oklahoma State University.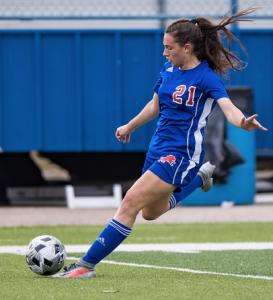 Boydstun is just at home in the classroom as she is on the soccer field. She was named to the Oklahoma Honor Society last year while compiling a 4.0 grade point average.
Karah is also looking forward to this summer after being accepted into the Choctaw Work Program.
In the community, Boydstun is a member of the Sunset View Baptist Church and has helped put together Christmas boxes for Samaritan's Purse along with "spreading the word of God with my church family".
With plenty of high school and prep soccer still ahead, Karah is considering Oklahoma State as a college destination and athletic training a possible course of study.
Karah's parents are Harry and Janice Boydstun.  She has seven siblings including brothers  Jesse, Jacob, Jordan, Jared and Jayce and sisters Kendra and Katie Williams.
Lydia Raines, the choice for Performing Arts Student of the month  is very active in choir and musical theatre.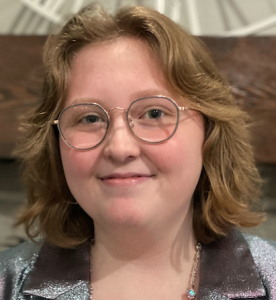 In choir, she has been selected by audition to the SE All-District Honor Choir five times, the OkMEA All-State Children's Choir three times and has  earned a three-year medal for selection to the OkCDA All-State Junior High Honor Choir 7th-9th grades.
In addition, Lydia is a two-time OkMEA All-State Choir member and has been selected to the Southwest ACDA Honor Choir three times and the 2019 ACDA National Honor Choir.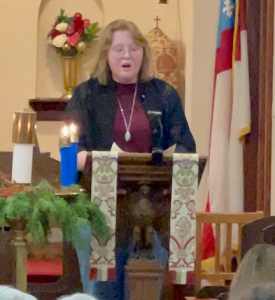 In the Durant Musical Theatre Program, she has served as the stage manager and flight team leader for the DISD Choir production of "Tarzan" in 2019 and studies voice with Ms. Carolyn Wilkins.
Her other high school activities include Band and the Key Club.
Stellar in the classroom,  Lydia is a concurrent college student having already earned ten credit hours while maintaining a 4.0 GPA.  Her overall grade point average is 3.71. and she is a member of the Oklahoma and National Honor Society
She plans to attend college and major in Vocal Music Education.
Lydia is the daughter of Will and Aprill Raines and has a brother, Braden and a sister, Sophie.
Congratulations to Karah Boydstun and Lydia Raines selected as the Shamrock Bank Impact Athlete and Performing Arts Student of the month for March 2022.