Listen to Scott Corbin M-F, 6-10 am on KLBC 106.3 FM.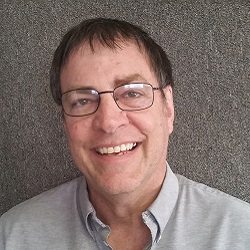 I've spent almost my entire life in radio.  Born in Lubbock, TX, to country radio pioneer Sky Corbin and wife Pat, our family moved to Oklahoma and a small ranch when I was in second grade.  Ranching went back to radio soon for Dad, and he bought KMAD AM in Madill.  By the time I was legal to drive, it was time to do some weekend shifts and "the legend" began.
After several years under Sky's watch, I later worked as news director for a Sherman/Denison radio group.  It's now been more than a decade at the mics on the morning show here at KLBC.  I spent most of those years co-hosting with one of the best friends I've ever had, Mr. Radio in Texoma, the late and great Bob McKinzie.
I live here in Durant with wife Kristin and our dog pack (5 yappers!) and with occasional visits from our grown daughters Lauren and Rachel.  Sunday mornings, say "Hi" at Fairview Baptist.  You'll find me as the ultimate back-row Baptist, sitting in the sound booth.
We watch way too much TV, binge-watching whatever new drama we've found;  and Sunday nights we will be always found with the warm glow of zombies reflecting on our faces from the flat screen for another Walking Dead episode.  We still find time to play at the lake now and again, and, of late, peer at the stars from our backyard through the new telescope .
A few other hobbies which I enjoy on occasion are fishing, flat water kayaking, sailing (very rarely the last two years), baking, and landscaping.