Marshall Hatch and Jayden Keyes of Durant High School have been selected as the Shamrock Bank Impact Athlete and Performing Arts Student of the month for January  2022.
Farrell Marshall Hatch

first picked up a basketball when he was four years old and has been playing ever since. He is a 5'9 junior and a two-year starter on the Durant varsity.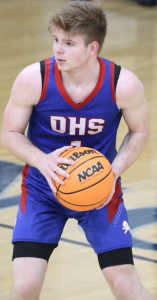 This season, the steady guard averages eight points a game after posting a ten point per contest average last year.  He has had several big offensive games during his varsity career.
In 2020-21, Marshall scored in double figures seven times pumping in 29 points in a game versus Atoka and 22 points in a road contest at McAlester. So far this season, Hatch has hit double figures in scoring five times and contributed a team-high 21 points in a 56-50 overtime victory over Class 6A Ponca City at the East Central Oklahoma Classic in Ada. He was named to the all tournament team at the ECOK tourney this season.
Marshall wears the number one jersey to honor Hunter Ford one of four Durant high school students who lost their lives in a May 2020 traffic accident caused by an alleged drunk driver.
A 3.4 student, Hatch is focused on basketball and he hopes to continue playing the sport in college.
His parents are Michael and Tiffany Hatch and Christi Hatch is his step mother. Marshall also has a sister Skylar Stinnett and a nephew Prince Julian.
Jayden Keyes is a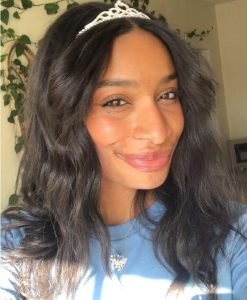 member of the "Pride of Durant" band  and started playing Clarinet when she was in the sixth grade. She has been selected to all district band and is a Uniform Officer in the DHS Band.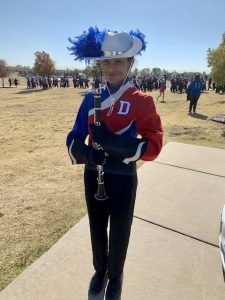 In addition, Jayden is the secretary of the DHS Key Club and was the club's homecoming queen candidate. She also spends her free time volunteering through the Youth Advisory Board (YAB).
Keyes, a senior, with a 3.9 grade point average, is a member of the Oklahoma Indian Student Honor Society and is in her second year of concurrent college classes.
She is unclear of her college major.  But, has been accepted by Southeastern Oklahoma State University for the  2022 fall semester.
Jayden is proud of her Choctaw Heritage and loves to travel, spend time with family and friends and thrift shopping.
She is the daughter is Tricia Keyes and Raque Gaddis. Amy Childs is her stepmother
Congratulations to Marshall Hatch and Jayden Keyes selected as the Shamrock Bank Impact Athlete and Performing Arts Student of the month for January 2022.