Jayden Hutchings and Kane Hoffman of Durant High School have been selected as the Shamrock Bank Impact Athlete and Performing Arts students of the month for March 2023.
Hutchings is a four-year letterman on the Lions boys varsity soccer team and has been voted team captain by his teammates.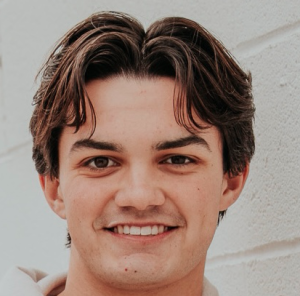 In addition, he is a four-time Academic All State Athlete and earned a letter with the varsity football team.
It hasn't been easy for Jayden.
After seeing some action as a sophomore, he missed his entire junior year with an injury. However,  he is off to a good start this season scoring five goals and assisting on another .
"Jayden is a leader both on and off the field," DHS head coach John Wilmoth said. " His hard work and dedication is paying off in his senior year."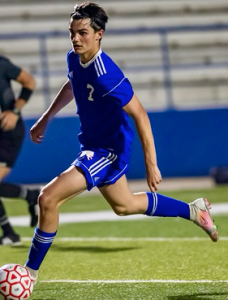 Hutchings is at home in the classroom recording a 3.9 grade point average in high school.  He is a member of the National Honor Society and is a Choctaw Star Student.
Jayden also is a standout in the community.
Hutchings has been a lifelong member of First Baptist Church Durant and  active on many mission trips including Mexico, Tennessee and several trips to Colorado. He has also been active in community service projects like feeding families during Thanksgiving and doing home projects for the elderly.
His future plans include obtaining a biology/pre-med degree from Oklahoma Baptist University where he has received academic scholarships totaling more than $108,000.
Jayden is the son of Joey and Gena Hutchings and the youngest brother of Jace and Jordan Hutchings.
Kane Hoffman, a senior, excels both academically and musically. Kane plays the Trombone in the DHS Pride of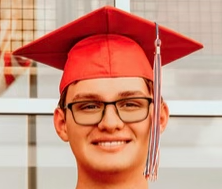 Durant marching band, symphonic band and jazz band. He is serving this year as a leader of the trombone section.
Kane has accumulated an impressive amount of awards and accolades in the band. He made the All District Honor band his sophomore, junior and senior years. In 2021, Kane was named Outstanding Sophomore Male in the DHS band. This year he received the high honor of making the All State jazz band.
"Kane is a very focused and committed young man, "Durant High School Band Director Chris Gregg said. "He has a wonderful work ethic and is a very confident leader of our trombone section. Kane has definitely been a fantastic example of what true leadership should be."
In addition to the high school band, Kane is a concurrent student at Southeastern Oklahoma State University and a member of the SOSU jazz band.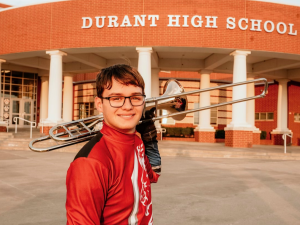 When he is not playing the trombone, Kane spends his time doing community service and leadership projects with the DHS Key Club and attending meets with the DHS Academic Team. He also plays the bass during worship service at Caddo First Baptist Church and is active with the Fairview Baptist Church youth program as well.
An honors student with a 3.9 GPA, Kane is a member of the Oklahoma Honor Society. He received first place in Anatomy and Physiology at the Murray State Curriculum in 2022 and plans to pursue a degree in Healthcare Business at the University of Oklahoma. Kane has not only been admitted into OU but was accepted into their Honors College. His goal is to one day open his own medical practice.
Kane's parents are Stewart and Sarah Hoffman. He has one younger sister, Kira.
Congratulations to Jayden Hutchings and Kane Hoffman the Shamrock Bank Impact Athlete and Performing Arts students of the month for March 2023.