Mason Ty Meeks and Zoë Jones of Durant High School have been selected as the Shamrock Bank Performing Arts and Impact Athlete  Students of the month for October 2023.
Jones, a senior, is a four-year member of the Lady Lions varsity and cross country and track squads.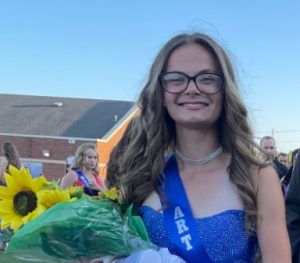 In 2021,  she was on the DHS All State Academic Champions Track Team and qualified as an all-state Individual in cross country. This year,  Zoë helped the Lady Lions finish third in the Class 5A regionals and in the eighth spot at the Class  5A- state tournament. In track, this spring, she expects to participate in the 2-mile, 1-mile and 4X8- 800m categories.
She has a special thank you to the coaches and is grateful to coach Robert Bokies for always believing in her when no one else did. "He thought I was coachable", she said. "…and always inspired me to try my best."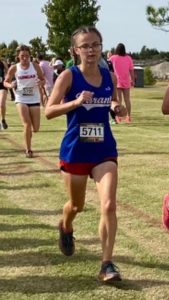 Zoë is also very active in school serving as the Vice President of the Art Club and its Queen Candidate at Homecoming.   She is a two-year member of the Key Club, a High School Ambassador and on the Choctaw Advisory Board.  In addition, she participated in DHS theater  working on the stage crew and handling props for the school productions of "Annie", "Beauty and the Beast", "Cinderella"and "Mary Poppins".
She uses her love of art to serve the community by volunteering as a face painter at the Durant Fraternal Order of Police Law Enforcement Fundraiser at Carl Albert Park and for the Feeding Hope organization.
A very good student, Zoë has recorded a 3.62 grade point average and has been selected to the National Society of High School Scholars. She is undecided about her college destination and major. But, she hopes to continue her running at perhaps Oklahoma or Oklahoma State.
Her parents are Stephen and Kristi Jones . Her sister, Georgia, was the March 2021 Shamrock Bank Performing Arts Honoree.
Mason Tye Meeks, a junior, has had success since beginning debate last year. As a sophomore, he attended his first meet and qualified  for debate regionals. He then followed that up by qualifying to the state debate tournament.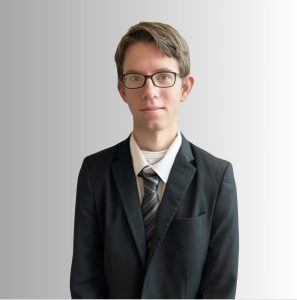 Mason is also heavily involved in competitive gymnastics. He has qualified for state each year and advanced to the Regionals in Louisiana last spring.
Meeks has aged out of gymnastic level competition, But, he continues to stay involved by  sharing his love for the sport and knowledge with the younger boys as a coach at Big Cats Gymnastics .
Mason is active at Victory Life Church and works at the Durant Walmart. His hobbies are chess, gymnastics,  video games, hanging out with his older siblings and taking care of his four and 18 month old little sisters.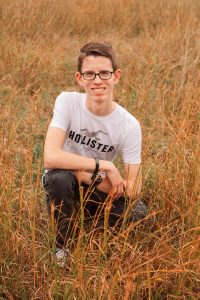 A 4.0 student, Mason is interested in pursuing Pre-Law or Communications at Oklahoma or Oklahoma State University.
His parents are Mark and Kelsey Meeks. His siblings are Larissa, Lyndsey, Karter, Kennedy, and  Zac.
Congratulations to Zoë Jones and Mason Meeks the Shamrock Bank Impact Athlete  and Performing Arts Students of the Month for October 2023.