Rylan Lain and Abby Hunkapillar of Durant High School have been selected as the Shamrock Bank Impact Athlete and Performing Arts students of the month for February 2023.
Lain has been an important cog for the Lady Lions basketball team during her varsity career.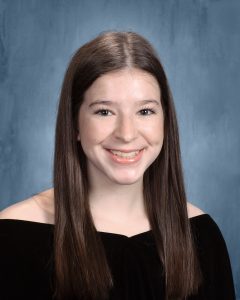 The senior was the steadying influence  at point guard along with providing a scoring threat.  Rylan averaged 7.3 points a game during her three-years as a starter and helped direct DHS to 15 wins this winter.  The most since 2011-12.  She scored in double figures eleven times during  recently completed 2022-23 season.
Playing against Byng in a tense home game February 14,  the undersized, but plucky playmaker, scored the Lady Lions final seven points of the game including the winning bucket with six seconds left in regulation of a 33-31 victory.
"Rylan not only leads on the floor.  But, is an "A" student in the classroom," DHS coach Will Robinson said. " She's a great teammate and a role model for our younger girls."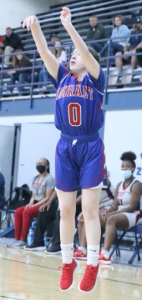 Rylan passes on her love of the game to youngsters in the community by serving as coach for first and second grade teams in the Bryan County Sports League and during summer camps at the Durant High School.
A sterling student, she has recorded a weighted 4.47 grade point average and will be a 2023  senior class Valedictorian. In addition,  Rylan been selected to the Oklahoma Honor Society, National Honor Society and the 2022 Southeastern Oklahoma State University Presidents Honor Roll. She was also  the girls basketball homecoming queen candidate in 2023 and an Academic All-Star.
Her college plans include majoring in Biology/Nutrition at Southeastern Oklahoma State University as a spring board to admittance to the College of Optometry at Northeastern Oklahoma State University. In preparation, she has served as an intern at Clay/Rhynes Eye Clinic In Durant.
Rylan's father is Gene Lain. She has two sisters, Mylee and Myra
Abby Hunkapillar is an award winning member of the "Pride of Durant" band who has ventured out into the community to make a difference.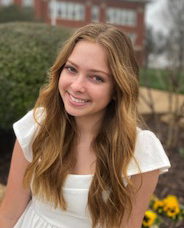 At Durant High School, excelling at trumpet,  Abby is a six-time selection and six-year  medalist to the SEOBDA All-District Honor Band and has received  a Superior Rating on her Solo Piece and Trumpet Choir at both the District and State level  and the OSSAA Solo and Ensemble. Hunkapillar is also member of the Durant High School Jazz Band and Symphonic Band along with being secretary for the DHS  band.
"Abby is a very energetic young lady with a great personality," DISD Band Director Chris Gregg said. "She has a fantastic work ethic and sets a wonderful example for our younger students."
Compiling a 4.43 weighted GPA. Abby is a three-year member of the Oklahoma Honor Society, the Oklahoma Indian Student Honor Society for two years and the National Honor Society.
As vice president of the DHS Key Club , her community service activities include helping  with the Durant Kiwanis Pancake Day and Easter Egg Hunt, volunteering with local elementary schools, pitching in on local food, clothing and school related drives and at Colton's Run.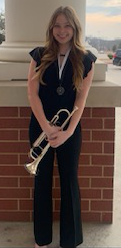 In addition, as a member of the Native American Youth Advisory Board,  Abby has passed out school supplies for the Johnson O'Malley Program, volunteered at J127 ministry, made Valentine's Day cards for the elderly at nursing homes and painted children's faces at a Choctaw Nation foster child awareness event,
She has also created a town-wide coat drive for the homeless, volunteered at the Choctaw Senior Citizen Halloween Party and Valentine's Day Party and attended leadership conferences.
Very Impressive, indeed!
Hunkapillar plans to attend the University of Oklahoma and hopes to land a spot on the OU Marching Band.
Abby's parents are Trent and Stacey Hunkapillar. She has one brother, Keaton.
Congratulations to Rylan Lain and  Abby Hunkapillar honored as the Shamrock Bank Impact Athlete and Performing Arts Students of the month for February 2023.