Congratulations to Nick Crouse and Hannah Raborn of Durant High School who have been selected as the February 2021 Shamrock Bank Impact Athlete and Performing Arts Students of the month.
Crouse, is a junior and a two-year starter for the varsity basketball team .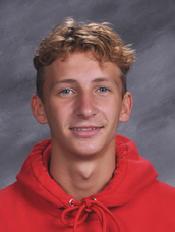 A gritty performer on the hardwood, Nick saw significant minutes on last season's DHS squad which advanced to the Class 5A Area tournament finals. Unfortunately, an injury at the Atoka tournament ended his playing time at mid-season.
But, Crouse worked his way back and was a steadying influence on this year's young and inexperienced team. At years end, Nick averaged 5.6 points a game and scored in double figures in three games.
"Nick is our (team's) energy." Durant boys basketball coach Aaron George said. "He plays extremely hard. Is scrappy and has been an asset for us."
Crouse, is also a member of the Durant tennis squad and has recorded a 3.3 grade point average in school.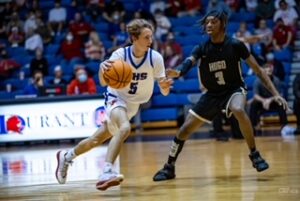 He is active in the community as a member of the Durant Church of Christ. Through his church work, Nick participates in the Summer Servants Program and has helped in the  Thanksgiving Meal Program since its inception.
In the summer, he is a lifeguard at the Durant city pool.
Following high school, Crouse plans to attend the Fire Academy and train to become a firefighter and an Emergency Medical Technician (EMT).
Nick's parents are Michael and Jennifer Crouse. He has two sisters and one brother- in -law. "Izzy (age two) is his biggest fan when he is playing basketball," his father said.
Nick's sister, Sierra Olive, is a labor and delivery nurse with Alliance Hospital and her husband is a teacher and coach with Durant Middle School.
Hannah Raborn is the February selection as "Performing Arts Student of the Month".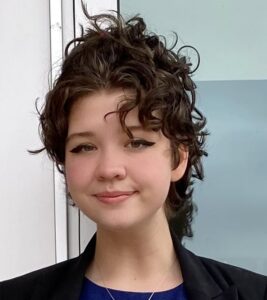 The sophomore is quite active in school being a member of the "Green team"  advisory group,  Debate, and the Family, Career and Community Leaders of America (FCCLA). She is also passionate about art.
"Hannah is the hardest working, most generous and serving student there is and she sets the example." Durant high school speech and debate teacher Kylee Sloan said.
In the community, she volunteers with Catholic Charities besides combining her school and a job at Craft Pies Pizza Company in Durant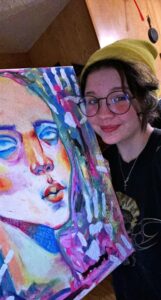 A 3.7 student, Raborn plans on pursuing a  degree in Childcare and Development.  Her college choices include East Central and Northeastern State.
Her parents are Amanda Durall and Paul Raborn. Her sisters are Daisy Raborn and Makayla Durall.
This award is given monthly during the school year to Durant High School students who show a dedication to their extracurricular activities while also excelling academically.
Congratulations to Nick Crouse and Hannah Raborn the Shamrock Bank Impact Athlete and Performing Arts Students of the month for February, 2021.