Sawyer Strange and Annika Ferguson of Durant High School have been selected as the Shamrock Bank Impact Athlete and Performing Arts Students of the month for September 2023.
Sawyer is a senior mainstay of the successful Lady Lions softball program  that has qualified for the Class 5A state tournament for nine consecutive years.
"Sawyer is a fantastic student/athlete who does what she can to help the team be successful," DHS varsity softball coach Jimmy Wyrick said." She is a great example for our younger players."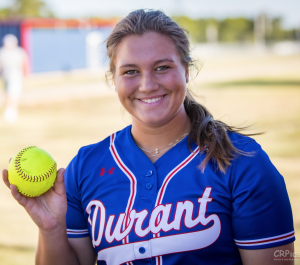 Sawyer, who first started playing the sport when she was four-years old, has collected a slew of honors and awards including all-district as a junior at first base and as a pitcher.
A three-year starter, she tops this years hitting chart with a .369 batting average after leading the team her sophomore and junior seasons with impressive batting averages of .404 and .421.
In the circle, the right-hander has combined for 14 victories over three seasons.  One of her biggest came on September 26, when she pitched 3 2/3 innings of scoreless ball to help her team rally past Collinsville 8-7 and gain the second place finish in district 5A-4. With that comes a home-regional regional  berth.
An excellent student,  she has recorded  3.95 grade point average and is a member of the Oklahoma and National Honor Society and HOSA. In the community, Sawyer has served as a volunteer coach for a 12-under softball team.
A self confessed "adrenaline junkie", Sawyer's bio is quite interesting. She plays five musical instruments, owns 25 chickens and says the Longhorn is her favorite animal.
Strange is undecided about her college destination. But, is considering becoming a veterinarian.
She is the daughter of Steven and Rhonda Strange.
Annika Ferguson, a senior,  plays the alto saxophone in the DHS marching, symphonic and jazz band along with being an accomplished pianist.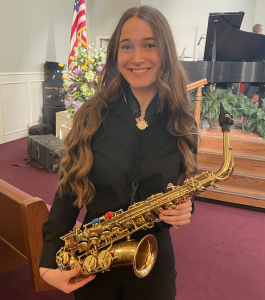 Annika was a Drum major in 2022 , is Head Drum major this year and was the queen candidate  for the"Pride of Durant" band. Her band-related honors are numerous. Five-time All-District SEOBDA Honor Band, two-time OBA/OkJE All-Star Jazz Band and two-time OKMEA All- State (2nd alternate).
In addition, she has been taking piano lessons for eight years and was the winner of the 2021 Texoma Piano Competition.
Annika carries a perfect 4.0 grade point average in her studies and is member of the Oklahoma Honor Society. She is undecided on her college destination and is considering pursuing a musical education degree.
Her mother is Kara Burgess, step father Jerry Burgess, and father, Kevin Burgess.  She has a younger brother, JJ, and younger sister, Allie.
Congratulations to Sawyer Strange and  Annika Ferguson the Shamrock Bank Impact Athlete and Performing Arts Students of the month for  September 2023.