Jaylon Saxon and Alyssa Lynch of Durant High School have been selected as the Shamrock Bank Impact Athlete and Performing Arts students of the month for December 2022.
Saxon, a junior, is a multi-sport athlete who participates in basketball, football and soccer .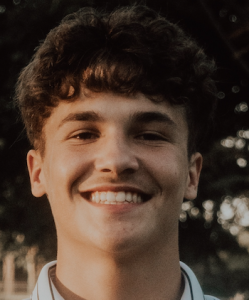 Jaylon is in his second year as a starter for Aaron George's DHS varsity roundball squad. He currently leads the Lions in scoring with a 13 point per game average. He pumped in 33 and 23 points in DHS victories over Plainview and Dickson, this season.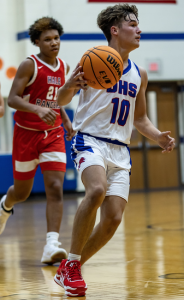 "Jaylon has great leadership skills and is very enjoyable to coach," Durant coach Aaron George said."He is great young man"
In the fall, Saxon has started at quarterback and in the defensive backfield for the Lions the past two seasons.  While directing the DHS run-oriented flexbone offense, Jaylon has thrown for 813 yards and eleven touchdowns. On, defense in 2022, he recorded 28 tackles, intercepted two passes and  showed his versatility by handling the punting chores.
In the spring, Saxon is an impact player on the DHS soccer team.
He also excels in the classroom posting a 3.8 grade point average and was named to the Oklahoma Indian Student Honor Society. In the community, Jaylon is a member of the Community Christian Church in Durant.
He hopes to continue his athletics at college and is considering business as a field of study.
Jaylon's parents are Kyle and Nichole Tucker and father Justin Saxon. He has  one brother Jordan and one sister Sophie.
Alyssa Lynch is a decorated member of the Durant choir.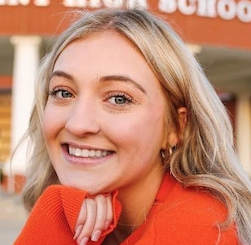 A senior, Alyssa is a six-year superior soloist, has been selected all district five times and holds a four-year gold letter.   She is also a state super soloist.
On the musical stage, her credits include parts in the school productions of "Annie", "Cinderella" and "Tarzan". She has also appeared in all of the schools choir concerts along with singing at the Gideon dinner this year.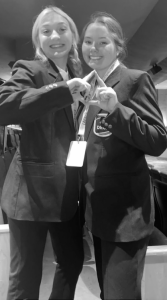 In addition to her choir, Alyssa is an active participant in high school organizations including  DECA and the Student Council.  She was DECA's homecoming queen candidate last fall.
A very good student, Alyssa has recorded a 3.74 grade point average and is planning on attending Oklahoma State  University where she will major in Zoology Pre-Veterinary Sciences with a minor in Psychology.
Her long time goals include being a vet and opening her own "no kill" shelter.
Alyssa's parents are Paul and Ginger Lynch.  She has one brother, Tyler
Congratulations to Jaylon Saxon  and Alyssa Lynch honored as the Shamrock Bank Impact Athlete and  Performing Arts Students of the month for December 2022.