Rowdy Waitman and Chloe Henderson of Durant High School have been selected as the Shamrock Bank Impact Athlete and Performing Arts students of the month for January 2023.
Waitman , a senior, is a three-sport athlete in wrestling, football and track.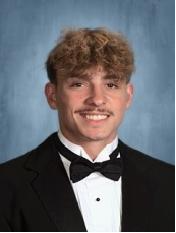 On the mat this season, Rowdy has posted a 21-5 record with third place finishes at the Midwestern Conference and Carl Albert tournament plus a fifth place showing at the Duncan Southern Oklahoma Invitational. His goal is to qualify for this year's Class 5A state tournament.
His wrestling journey began with the Durant Pride Youth Wrestling program (ages 5-7).  Later, Rowdy  returned to the mat during his freshman year with the SEO Club where he won 1st place at the Open Novice Tournament OKWA.
"Rowdy is a great example of 'forget the past'," DHS wrestling coach Jim Taylor said. "It's the hard work and dedication of now that makes the difference. He has really worked hard this season to improve his technique, shape and mental toughness."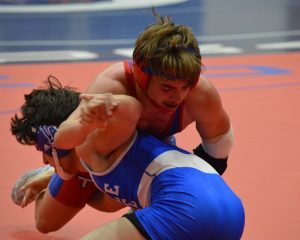 In addition to his wrestling, Waitman was a receiver on the DHS  football team and a major contributor to the track squad last spring qualifying for the 5A state meet as a pole vaulter.
In his free time, Rowdy loves to work with younger kids and is eager to spend time with his siblings as a coach in little league baseball and a mentor in wrestling.
Beginning at age 15, he starting doing odd jobs and went to work the next year before he and his family decided he would take a break from work his senior year to enjoy time with his friends and continue his sports.
Waitman has compiled a 3.39 grade point average and plans to continue his education at Southeastern Oklahoma State University where he will major in Business Administration.
Rowdy's parents are Terry and Angel Waitman. He has four brothers: Riley (his twin who also played football and wrestles), Racer, Ryker and Reggs.
Chloe Henderson, a junior, sparkles in choir, musical theatre , athletics and more.
Her list of singing accomplishments is impressive.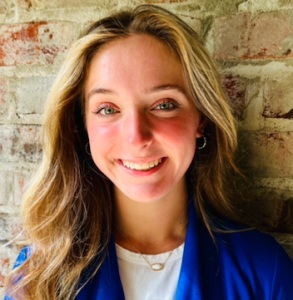 Five years All District Choir, three years All State Mixed Choir,
State superior soloist with multiple superior ensembles and two year Gold Letter in choir.
In addition, Chloe is a member of the SE Honors Show Choir and was named the top female choir student her sophomore year.
She is especially excited about her acceptance into the American Choral Directors Association (ACDA) National Honors choir . Later this month, she will take part in the organization's National Conference in Cincinnati, Ohio.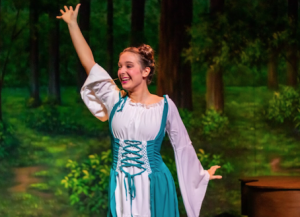 On the musical stage, her credits with the DISD' choir include appearances as Charlotte, the wicked stepsister, in "Cinderella", and most recently as Annie in "Annie the Musical."
She has also performed for 13 years with the Oklahoma Shakespearean Festival , studied and performed dance with the Axis Dance Company and appeared  in a number of local productions.
Also, this amazing young lady is a member of the Lady Lions Class 5A state championship golf team and the DHS Student Council.
A stellar student with a 3.9 GPA , Chloe is in the Oklahoma Honor Society and Oklahoma Indian Student Honor Society. She is also enrolled in classes at Southeastern Oklahoma State University and finds time to be a worship leader with the First Baptist Church of Durant.
She is currently undecided on her college destination and course of study.
Chloe's parents are Willy and Julie Henderson.  She has two siblings, Lillian and Elliot.
Congratulations to Rowdy Waitman and  Chloe Henderson honored as the Shamrock Bank Impact Athlete and Performing Arts Students of the month for January 2023.