Aiden Sager  and Bryan Gray of Durant High School have been selected as the Shamrock Bank Impact Athlete and Performing Arts students of the month for September 2021.
Sager, a sophomore,  is a key member of both the DHS cross country and track teams. A strong performer this fall, Aiden is coming off a freshman track season in which he was a Class 5A State Track Qualifier in the   4 x 400 and 4 x 100 relays.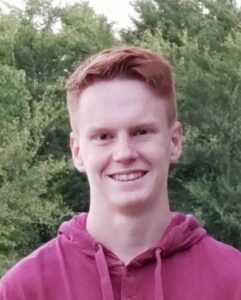 "Aiden in a great kid who is hard working and dependable," Durant Cross County and Track co-coach Amanda Reynolds said. "He is always the first to practice and last to leave and the first to offer a lending hand with equipment or cheering on teammates. Aiden is a positive influence for team."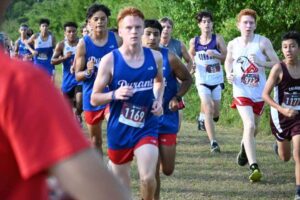 Sager is an honor roll student with a 4.0 grade point average and is also active in school as a member of the Student Council. In addition, in the community, Aiden  participates in the Patrick's Catholic Church Life Teen program.
He is contemplating a possible career path in engineering.
Aiden's parents are Lisa and Cliff Sager. He has one sister, Avery
Gray is a senior trombone player in "The Pride of Durant" band.
He is an Oklahoma Bandmasters Association All-Star Jazz member this year and has been All-District for five years  in the Southeastern Oklahoma Band Director's Association .
"Bryan is a great kid with a neat personality, " Durant High School Band director Chris Gregg said when recommending Gray.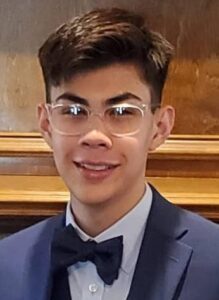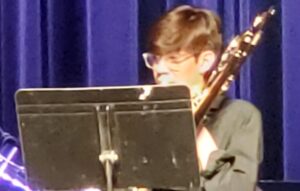 A 3.50 student, Bryan is considering studying Computer Science or Electrical Engineering in college.   Oklahoma University and Oklahoma State University are his choices.
Bryan's parents are Harold Gray and Elizabeth Gray.
His Siblings are Kevin Einan (stationed at Charleston AFB, SC), Angela Einan (San Antonio, TX) and Megan Gray (Honolulu, HI).
Congratulations to Aiden Sager and Bryan Gray honored as the Shamrock Bank Impact Athlete and Performing Arts Students of the month for September 2021.